《Advantages》

YASDA's precision vice demonstrates the following effects of the wedge nuts function by clamping work pieces
| | |
| --- | --- |
| ● | Preventing the work piece from moving up and keeping it fitted as downward force is given to the movable sleeve. |
| ● | Clamping the work piece with no more than appropriate force. |
| ● | Finally, clamping the work piece securely as the movable unit and the wedge nuts clamp the sliding face. |
Minimal strain to the work piece.



Unnecessary to hit the work piece from the top as it is properly fitted.



Therefore, the work piece is not damaged.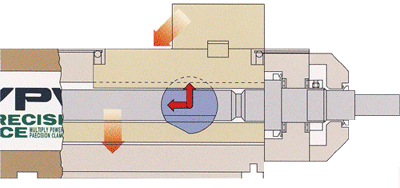 Wedge nut mechanism prevents the work pieces from moving up, and thus, further higher and more accurate clamping force can be created
In proportion to the jaw clamping force, the wedge nuts built into the slider, which fastens the jaw, create downward force and pull down the jaw, so as to prevent the work piece from moving up completely and to maintain accurate clamping.